Alpha1Media launches A1Film Top 10 List 2015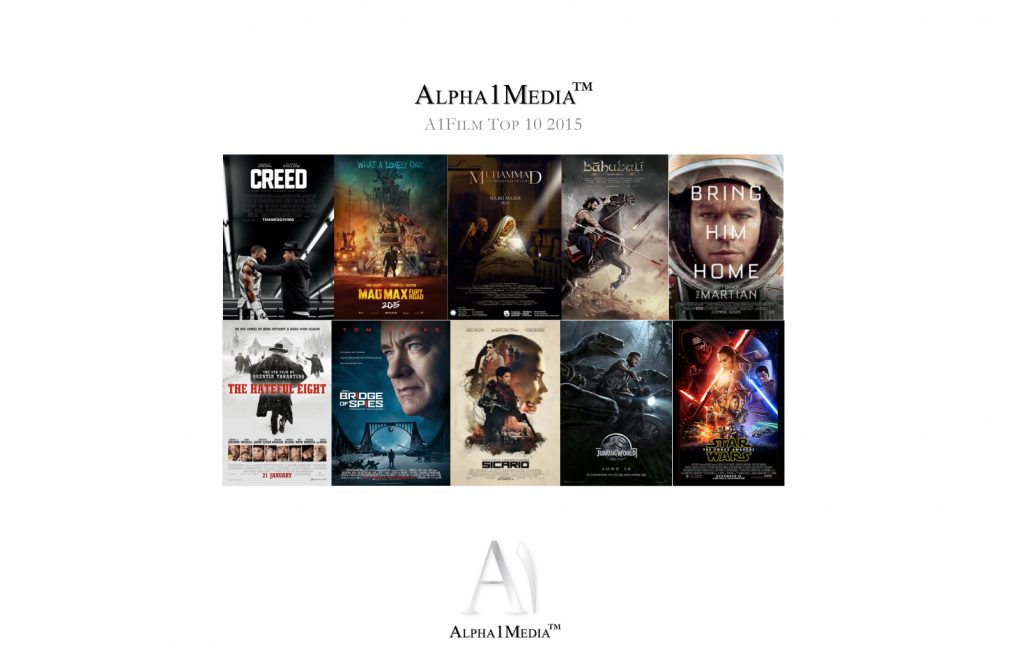 Alpha1Media launches A1Film Top 10 List for 2015
London, UK (31 January 2016): Global diversified media firm Alpha1Media International on January 31 has launched its annual list of the top 10 films from around the world which cinema audiences enjoyed in 2015.
The A1Film Top 10 List for 2015 highlights films from Hollywood, Bollywood, Europe, the Middle East, Africa, Latin America, Asia and the Far East, which are reflective of the best of global popular cinema in 2015, Alpha1Media said.
'The A1Film Top 10 List for 2015 continues to be a unique list because it focuses on global popular cinema, featuring films with commercial and or critical acclaim,' said Ms. Felce, Alpha1Media's official spokesperson.
The A1Film Top 10 List in order:
1. 'Creed' IMDB:  8 (The Franchise)
#A1Film Analysis @creedmovie @TheSlyStallone deserves @TheAcademy for #Rocky role 7 times over 40 years #heart #RyanCoogler #MichaelBJordan
2. 'Mad Max: Fury Road' – IMDB: 8.2 (The Franchise)
@Alpha1Media #Analysis @MadMaxMovie #MadMax Surprisingly good road rage film with contemporary resonance #TomHardy @CharlizeAfrica #A1Film
3. 'Muhammad: The Messenger of God'– IMDB: 8.4 (The Holy Epic)
4. 'Bahubali: The Beginning' – IMDB: 8.6 (The Franchise)
5. 'The Martian (2015)' – IMDB: 8.1 (The Intelligent Blockbuster)
#A1Film Analysis of @MartianMovie #MattDamon star turn in #RidleyScott second sequel to Good Will Hunting after @Interstellar dream sequence
6. 'The Hateful Eight' – IMDB: 8 (The Play)
7.  'Bridge of Spies' – IMDB: 7.7 (The Political Thriller)
#A1Film Analysis of @BridgeofSpies @tomhanks everyman goes geopolitical in measured but heart-tugging Cold War story from #StevenSpielberg
8. 'Sicario' – IMDB: 7.8 (The Political Thriller)
#A1Film Analysis @SicarioMovie @EmilyBlunt #JoshBrolin #BenicioDelToro in taut tense thriller masterclass though needs positives of #Mexico
9. 'Jurassic World' – IMDB: 7.1 (The Franchise)
#Analysis of #JurassicWorld #JurassicPark Disrupts commercial expectations for a rip-roaring ride with touch of #Predator @Legendary #A1Film
10. 'Star Wars: Episode VII – The Force Awakens ' – IMDB: 7.1 (The Franchise)
#A1Film Analysis @StarWars #TheForceAwakens #JJAbrams @Badrobot resurrect original blockbuster franchise competitive time #HarrisonFord helm
Only two of the top 10 films selected by Alpha1Media have been recognised in the 'Quintessential' category section of the official A1Film Preview List of 2015, namely 'Star Wars: Episode VII: The Force Awakens' and 'The Hateful Eight', demonstrating how surprising 2015 was as a year of cinema.
Alpha1Media™ is officially celebrates that for 'Creed', No. 1 in the A1Film List of 2015,  Sylvester Stallone has been nominated for the Academy Award ('Oscar') for Best Supporting Actor for his role and has won the Golden Globe for the same. Sylvester Stallone has portrayed 'Rocky', his own literary creation, seven times over four decades. His historic Oscar nomination holds a number of records: Sylvester Stallone holds the record for the longest time between Oscar nominations and also the record for longest time between nominations for portrayals of the same character.
"We are delighted that Sylvester Stallone has achieved this accolade, as Alpha1Media has been officially a great fan of his talent in cinema," said Ms. Felce.
Alpha1Media™ met with Sylvester Stallone, world-famous iconic writer, actor, director and producer on 1 August 2014, during his launch for 'The Expendables 3', No. 4 on the A1 Film Top Ten List 2014, and were VIP front row guests at two events with the superstar in the UK, firstly on at the Palladium in London 11 January 2014 and secondly celebrating the A1Film Lifetime Achievement Award on 1 August 2014.
At the London Film and Comic Con in July 2014, Alpha1Media™ also met with Milo Ventimglia, the actor who portrayed Rocky Junior in Sylvester Stallone's 'Rocky Balboa' and had spoken with him about 'Creed'.
Alpha1Media™ in 2015 met with some of the most influential figures in the production of global cinema today, including being a VIP guest at the 2015 London Film Festival, meeting with Mr. Zhang Hongsen, the Director of State Administration of Press, Publication, Radio, Film and Television of the People's Republic of China (SAPPRFT), Zhang Wei, President of Alibaba Pictures, Celine Lin, a consultant formerly with Wanda Media, and Isabel Davis, Head of International at the British Film Institute, as recognised by the British Film Commission (BFC).
Alpha1Media™ is a global diversified media firm. Alpha1Media™ produces and advises on media creation using 10×10 types of media including phone, print, TV, radio, billboard, computer, cinema and futuristic media based on scale, motion and holograms.
In the film sector, Alpha1Media™ focuses on film development, production, financing and cultural advisory services. It currently has four film projects in development with production value estimated at USD $300 million from 2015-2025.
Contact: Maria Felce: M.Felce@Alpha1Media.com