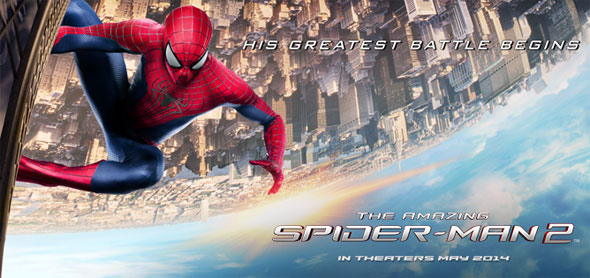 The Amazing Spider-Man 2
Industry Analysis at the World Premiere on 10 April 2014 at the Odeon Leicester Square, London, UK.
Premiere: The senior management of Alpha1Media were VIP guests at the World Premiere of "The Amazing Spider-Man 2″ on 14 April 2014 at the Odeon Leicester Square, London, UK. This was the first World Premiere of a Spider-Man movie in London, the United Kingdom and Europe, especially auspicious as Andrew Garfield, the actor portraying Spider-Man is a dual British-American citizen raised in London, and also as London is the Global HQ of Alpha1Media. Alpha1Media were VIP guests at Gala European Premiere of the "The Amazing Spider-Man 2″ on 18 June 2012 and at the World Premiere of its sequel, one of the only companies in the world to be so privileged. On 5 April 2014, Alpha1Media were VIP guests at the first Video-Conference of Stan Lee, the creator of Spider-Man, in the Middle East in Dubai at the Middle East Film and Comic Con, and five days later attended the World Premiere of the sequel in London. Gerry Conway, the Marvel comic book creator of the epic Gwen Stacy story featured in "The Amazing Spider-Man 2″ on Twitter welcome Alpha1Media's presence at the World Premiere, celebrating his contribution, till his own attendance at the US Premiere of the film in New York on April 24.
Film sequels are rarely better than the original, but there are exceptions. "The Godfather" (1972) is more fulfilling when watched with "The Godfather: Part II" (1974), for it is only in all three that you see arguably the greatest acting performances of Marlon Brando, Al Pacino and Robert De Niro. Sylvester Stallone created the iconic "Rocky" (1976) who actually loses his boxing match but in "Rocky II" (1979) wins to become the World Heavyweight Boxing Champion. In the superhero genre, Christopher Nolan's "The Dark Knight" (2008) is considered by Alpha1Media to be the lead installment in the world's best film trilogy, whilst the Sam Raimi-directed Spider-Man film series (2002-2007) has "Spider-man 2″ (2004) as it's leading installment. So the expectation for "The Amazing Spider-Man 2″ (2014), Marc Webb's sequel to the 2012 reboot with Andrew Garfield as the web-slinger, has high expectations. Does it deliver?
"The Amazing Spider-Man" (2012) was a reboot of Marvel's lead character five years after his first film series had taken him worldwide. The film is globally the second-highest grossing film in the Superhero Origin genre after the original "Spider-Man" (2002), raking in USD $752 million compared to the original's USD $822 million, and ahead of the DC Comics' Superman reboot, "Man of Steel" (2013) at USD $668 million. However, Marvel had blazed ahead in terms of box-office performance earlier in 2012 when "Marvel's The Avengers" (2012),  its ensemble cast of Marvel Superheroes – sans Spider-Man – had become globally the third-highest grossing film in history at USD $1.519 billion. In terms of audience appreciation, Alpha1Media had stated "The Amazing Spider-Man" (2012) was on par with the best of the Sam Raimi's contributions, either "Spider-Man" (2002) or its sequel, "Spider-Man 2″ (2004).
Sony, which holds the rights to make Spider-Man films, has keenly observed the box-office performance of "Marvel's The Avengers" (2012) in terms of the need of an ensemble. It also has focused on trying to enhance the Oscar-worthiness of its franchises as it did most recently with "Skyfall" (2012), the Oscar-winning James Bond film which is now also its globally highest-grossing film in the franchise at USD $1.109 billion and the eighth-highest grossing film of all time. These lessons have paid off in "The Amazing Spider-Man 2″.
"The Amazing Spider-Man" marks the fifth Spider-Man film in history, and the second with actor Andrew Garfield as the web-slinger. It's a part Garfield was born to play, even reminding the audience at its World Premiere that it was his mother who made his first costume for him. Two of Alpha1Media's key observations of enhancements for the sequel, as related in its industry analysis for "The Amazing Spider-Man" (2012) on 18 June 2012 have been keenly observed. The first was that 'Garfield is best suited, in the original Spider-man costume and not the version in this franchise, to portray this role for a number of years', essentially meaning it would be best to return to the original Spider-man costume in its sequel. On 25 February 2013, Marvel released a photo on Twitter confirming that the traditional Spider-man costume would be used. The second observation was 'Garfield is best suited, to portray this role for a number of years … capable of matching Sean Connery's tenure in seven Bond films, but only if he physically develops to acquire greater muscle bulk as he ages – in the same way Tom Cruise and Christian Bale have.' On 26 February 2014, a year after the new costume announcement, Sony announced that it would release nine Spider-Man films over nine years – and it seems clear, as Hugh Jackman has portrayed Marvel and Fox's Wolverine over thirteen years and six films, that Garfield can and will be willing to do the same.
The tagline of "The Amazing Spider-Man 2″ is that both Peter Parker and Spider-Man are about to discover that their 'greatest battle is about to begin.' Peter Parker's relationship with Gwen Stacy, played admirably by Emma Stone, is becoming more tenuous as he discovers the truth about his parents whilst Spider-Man has to face off against three new villains: Electro, The Green Goblin and Rhino. Newcomer Dane DeHaan portrays Peter's childhood friend, Harry Osborn, a role played in the original series by James Franco, whilst the role of The Green Goblin, historically Norman Osborn, was played by Willem Dafoe in the original. Paul Giamatti has a cameo as Rhino, but it is Jamie Foxx, the Oscar & BAFTA-award winning actor, who gives a scene-stealing role as the villain Electro, a reluctant Frankenstein who begins to enjoy his power. Foxx is a casting coup following his performance in Quentin Tarantino's "Django Unchained" (2012).
Director Marc Webb has grown in confidence for "The Amazing Spider-Man 2″. He retains his focus on character development, at times very evocative of his film, "500 Days of Summer" (2009). In fact, if all the action sequences of the film were removed, the sequel could potentially be a rom-com plus human drama. Gwen Stacy's quirky application and acceptance at Oxford University to go and study is a joy to watch, particularly as she decides to go on a summer school programme there as well. Equipped with a much larger budget, Webb uses the special effects in the film with skill, creating a theme park thrill ride which has to be seen in 3D and or 4D for greatest impact. It's also an ensemble film, setting up future Spider-Man films to square off against a group of his famous foes, who when they band together, are called The Sinister Six. Alpha1Media recognised this challenge in its industry analysis in 2012, stating 'The sequels to the new Spider-man franchise will have to focus on which villain they would like to face off against and why.'  Christopher Nolan's "The Dark Knight" Batman trilogy is also part of the inspiration with a focus on parents and their legacies as well as an opening airplane sequence. Hats off to Nolan favourite Hans Zimmer, who with his band of The Magnificent Six, scores the film in certainly the best music of any Spider-Man film to date.
That does not mean that "The Amazing Spider-Man 2″s does not face its own internal challenges. The film's pacing, with its focus on character development, and length at 136 minutes may mean that audiences actually want more money-shot action scenes in this blockbuster, rather than less. It would also have been much better to use more iconic elements of the epic Gwen Stacy story penned by Gerry Conway, the Marvel comic book writer, whilst in the film, this adaptation remains skeletal. Sally Field is progressing as Aunt May but aging her – specifically making her grey as her comic and previous film incarnation – will definitely succeed in developing her as a critical character in the film series. Credit also has to be given to Webb for excising the role of Mary Jane, played by  Shailene Woodley, as it would have distracted from the story's main arc. Stan Lee, Spider-Man's 91-year old creator, does appear in the film in his obligatory cameo, but twice in the same film would be even greater. Foxx's dialogue at times as well as certain plot devices may need to have been more streamlined, but ultimately when the action appears in the film, it's on par with global blockbusters. More cameos of the good and great would also be very welcome.
There is also the possibility of internationalisation with Spider-Man potentially travelling outside of Manhattan. In "Superman II" (1980), Superman, played by the late Christopher Reeve, travels to both France and Canada whilst in "The Dark Knight" (2008), Batman, played by Christian Bale, travels to Hong Kong. Peter Parker rarely seems to leave New York, but in "Amazing Spider-man 2″, Peter Parker tells Gwen Stacy he will follow her to England when she goes to study at Oxford, and in fact, will follow her everywhere. It would not go amiss to take Peter Parker outside of New York, particularly to cities such as Dubai where skyscrapers such as the Burj Khalifa are natural habitats to swing around and climb.
"The Amazing Spider-Man 2″ is a film focused on character development mixed with a theme park theme ride which aims to set up nine films over the coming decade as per Sony's aims. In an era of increasing collaboration between studios, Marvel is open to greater crossover amongst its own characters under its own studio, Sony and Fox. In its industry analysis in 2012, Alpha1Media asked the question, 'The success, both critical and commercial of "The Avengers" (2012), allows us to also ponder and potentially ask if Garfield will appear in the ensemble sequel. Who would not pay to see Garfield wax lyrical, trading both verbal and physical blows with Robert Downey Jr. as Tony Stark/ Iron Man?' Marvel indeed made an overture for Spider-Man to be referenced in "Avengers: Age of Ultron" (2015), the upcoming Avengers sequel, but Marvel Studios President Kevin Feige said "the deal was never close to happening." In fact, it may be the behemoth of DC Comics' rival production, Zack Snyder's "Batman Vs. Superman" (2016) which will ensure there is greater collaboration across the Marvel cinematic universe.
Alpha1Media International, a global media creation and advisory firm, can be contacted on info@Alpha1Media.com, via Twitter @Alpha1Media or via website http://www.Alpha1Media.com.