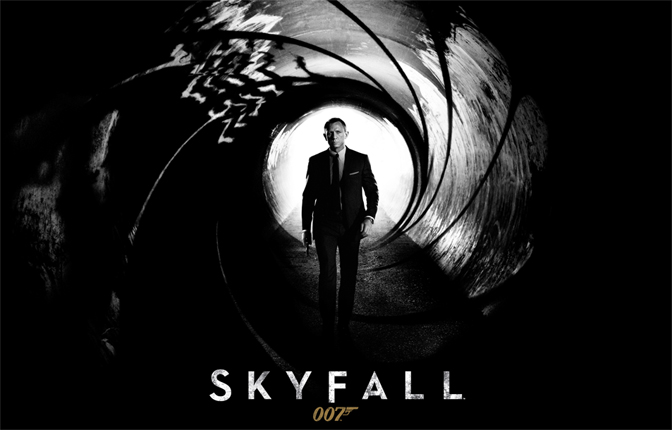 Skyfall
Industry Analysis at the Royal World Premiere on 23 October 2012 at the Royal Albert Hall, London, UK
Premiere: The senior management of Alpha1Media were VIP guests at the Royal World Premiere of "Skyfall" on 23 October 2012 at the Royal Albert Hall, London, UK with HRH Prince Charles and the Duchess of Cornwall in attendance as Patrons. There are premieres – and then there are Royal World Premieres for James Bond films. "Skyfall" was especially special for being the film released in the 50th anniversary of the James Bond film franchise. Daniel Craig, portraying Bond for the third time in "Skyfall" said the Royal World Premiere was "probably the most memorable night of [his] career."
2012 marks the 50th anniversary of the film incarnation of James Bond, the world's most famous secret agent, an anniversary shared with Spider-man, who was created in 1962. Though James Bond in "Skyfall" (2012) may aspire for Oscar glory for the first time in his fifty years of film, the reference to comic book heroes – in particular, the latest film incarnation of Batman – should not go amiss.
"Skyfall" marks the 23rd film in the official James Bond franchise, and the third with actor Daniel Craig in the lead role. But it is the Oscar winners of "Skyfall", both behind and in front of the camera which mark a departure for the franchise in some ways. Sam Mendes, who won an Oscar for directing "American Beauty" (1996), is the director for the film, which is also partially-written by John Logan, three-time Oscar nominated writer of "Gladiator" (2000), "The Aviator" (2004) and "Hugo" (2011). In front of the camera, Dame Judi Dench reprises her role as M, the MI6 chief, for the seventh time, having been nominated for Oscars five times and won once for "Shakespeare in Love" (1998). She shares the screen with Albert Finney, also nominated for Oscars five times in his film career. The villain of the film, Raoul Silva, is portrayed by Javier Bardem, Oscar-nominated twice but also an Oscar winner for his role in "No Country for Old Men" (2007). The aim is clear – make an Oscar-worthy Bond film, praised by critics but also yielding from the global box office.
The plot of "Skyfall" revolves around Bond's loyalty to M, which is tested as her past comes back to haunt her, after the MI6 Building is attacked. Though it is worth mentioning that the plot devices of M's past and a bomb blast at MI6 HQ occurred in "The World is Not Enough" (1999), "Skyfall" has far greater ambitions with regards to its story, theme and content. The exotic locations such as Istanbul and Shanghai are there, but deceptively so – with London, in its 2012 Olympics year, playing a central role. The continued gritty realism of Bourne is also channelled in this latest Bond, but with care. However, the most evident form of inspiration for Bond comes not from the spy genre, but from the comic-book genre, and most specifically Christopher Nolan's "Batman Begins" trilogy (2005-2012).
In the development of "Skyfall", Nolan was assuredly a reference. The influence of Heath Ledger as the Joker in Nolan's "The Dark Knight" (2008) on Bardem's anarchist Silva is without doubt, be it in scenes inside the interrogation room, his mane of peroxide blond hair and his own equivalent of the League of Shadows. Bond's own past – in its entirety – returns to haunt him as it did for Bruce Wayne in the trilogy – in places he may not be so comfortable. Albert Finney's character, too, may not be too far off from Michael Caine's portrayal of Alfred Pennyworth.
But that should not detract from a Bond film in which the character development takes precedence over the action – the  first in a long time. Mendes' direction with regards to some characters has the Midas touch – with other characters, in particular the Bond Girls apart from M, the seem to be dismissed in a characteristic Bond way. Craig will most likely complete a set of five films as James Bond, with Skyfall being his best film to date. However, it would be best to describe Craig's run, even on its completion, as the Era of 006. Agent 006 was most recently portrayed by actor Sean Bean playing Alec Trevelyan, the blonde haired Bond compared to the brown-haired suave and debonair incarnation of 007 by Pierce Brosnan in "Goldeneye" (1995). Craig's version, a Blond Bond in the era of Bourne, exists in almost an alternative version of the Bond canon, supported by excellent storytelling when compared to recent scripts. It is for this reason that it has won acclaim from critics and at the box office. When Craig's run is complete, it would be expected that Christopher Nolan may be handed the reins.
Nolan has oft-mentioned that he is heavily influenced and inspired by James Bond and that the franchise inspired much of his Batman trilogy. He also still aspires to direct a Bond film, and would most likely cast his Batman, Christian Bale, in the role. In "Skyfall", it is evident that there is a Nolanseque 'Batman'-inspired film in theme, story and content. In a circle of imitative flattery, we see "Skyfall" in 2012 inspired by the "Batman" films of 2005-2012, which were in turn inspired by the James Bond film franchise from 1962, based on a character created in 1953 – whilst Batman was created in 1939. "Skyfall" could be seen as the courting of Nolan, who having handled both Batman and Superman, may one day be given James Bond.
A film icon now 50 years old, "Skyfall" marks a departure, where the development of characters, if not the story, precedes the action. Craig's role is his best yet, and cements his contribution as that of the Blond Bond/ 006. Bringing in Oscar-winners is to be highly commended as is keeping the gritty realism which audiences genuinely appreciate. But this departure for Bond will only be complete following Craig's two future films, which will be valuable additions to the canon, leaving Christopher Nolan to helm a future 007 film with Christian Bale draped in the tuxedo.
Alpha1Media International, a global media firm, can be contacted on info@Alpha1Media.com, via Twitter @Alpha1Media or via website http://www.Alpha1Media.com.