Mission: Impossible – Ghost Protocol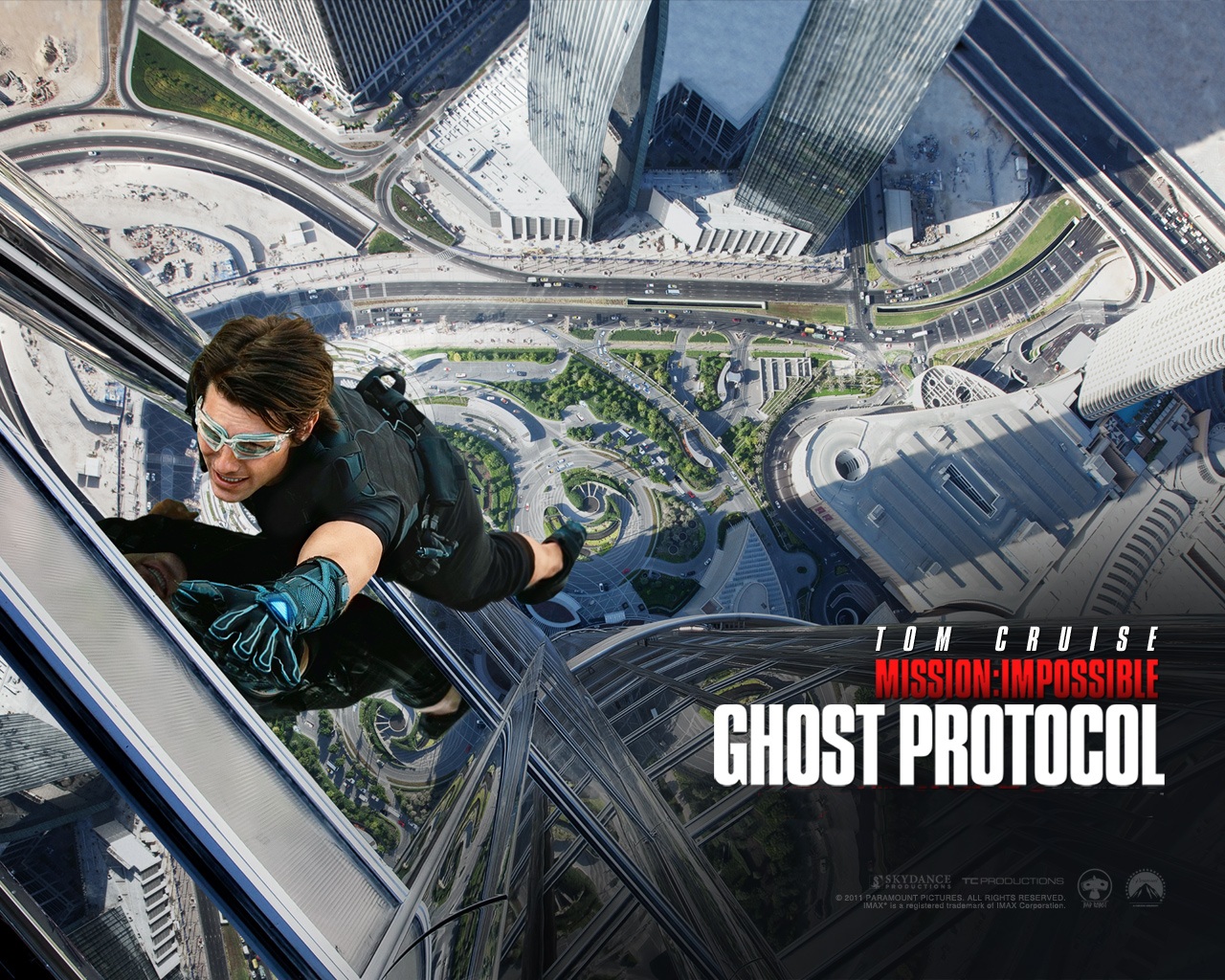 Reviewed at the World Premiere on 7 December 2011 at the Dubai International Film Festival, UAE
Let there be no doubt: Tom Cruise is Spider-man. The world's biggest movie star would have been the ideal man to play the role had it been produced and directed by James Cameron as per his scriptment in the 1990s. It's visible across his only film franchise, Mission Impossible, reaching its 15 year anniversary. In "Mission: Impossible" (1996), the bespectacled Cruise, looking akin to Peter Parker, dangles from a wire whilst trying to break into the CIA Headquarters. In "Mission: Impossible II" (2000), the film opens with him climbing Dead Horse Point in Utah, followed by "Mission: Impossible III" (2006) where he base-jumps from a skyscraper in Shanghai. But what Cruise genuinely does in the fourth film is much more spectacular.
"Mission: Impossible – Ghost Protocol" (2011), the fourth film in the Mission Impossible franchise, centres on how the Impossible Mission Force (IMF) is shut down after the Kremlin in Russia is bombed, causing agent Ethan Hunt (Tom Cruise) and his new team to go rogue to clear their organisation's name. The film essentially answers the question as to how the IMF Secretary would disavow any knowledge about his organisation if something were to go terribly wrong on the mission – or the IMF implicated in a bombing.  This act of disavowing any the actions of the IMF, its agents as well as ultimately shutting it down is called 'Ghost Protocol.'
The new IMF team includes a spy agent Jane Carter, played by Paula Patton, William Brandt, a desk analyst played by Jeremy Renne and reprising his role from "Mission: Impossible 3", technical agent Benji Dunn played by Simon Pegg. Sentimentalists of the franchise can look forward to some familiar faces, accompanied at times with twists.
The film marks the live action directorial debut of Brad Bird, more known for his animation work in "The Incredibles" and also co-produced by J. J. Abrams, who coincidentally also make his directing debut with "Mission: Impossible 3". The plot of the film is generally tighter than that of its predecessors and many of the set-up pieces work. This film evokes similarities with the latest incarnation of James Bond as well as Jason Bourne, but remains more light-hearted and rightfully earns its own place. Neither of those two superspies, nor the actors who portray them in their present incarnation, would attempt to do what Tom Cruise does in one scene in particular, reminding audiences why he became the world's biggest movie star.
Burj Khalifa is the world's tallest building at 828 metres, a silver shimmering skyscraper which dominates the horizon of the Arabian metropolis of Dubai. In "Ghost Protocol", Cruise swings, falls, jumps and runs across the iconic structure, two global stars in one frame. It's him. There's no stunt double. There's no safety net. In short, the world's biggest movie star performs the most dangerous stunt in recent cinematic history. It's a money shot in which there's no computer-generated graphics, which makes it all the more spectacular. Jaws ajar, armrests firmly grasped, the audience will delight in the spectacle of a movie star being a star, and doing what all cinemagoers ideally want to do – live the dream. For this, and this alone, the film is worth watching.
Bird makes the scene not only a tribute to Cruise, but to Dubai as well, in its debut at the centre of a major Hollywood blockbuster. The city has never looked as spectacular, and will undoubtedly reap rewards from tourism and reputation as a result of the film's marketing. By featuring Dubai so strongly, "Mission: Impossible" as a franchise has been a leading proponent of setting films in emerging markets of the future, where the future box-office revenues will and are coming from. Shanghai in "Mission: Impossible III" and Dubai and Mumbai in "Ghost Protocol" reflect the start of a journey which Hollywood is making.
It is being at the start of this journey as opposed to in the middle of it which also highlights the flaws in "Ghost Protocol." Some scenes, such as the use of a magnet in trying to break into a vault, are futile considering some of the spectacular scenes which preceded them. The writers are strongest on plot, story and gadgetry for the action genre, but less so on some of the aspects of the emerging markets in which their stories are set. In Dubai, for example, the concept of a sandstorm felt contrived and will elicit guffaws from those familiar with the city. India does not should fare as well as it have in the film. Though one of Bollywood's leading actors, Anil Kapoor ("Slumdog Millionaire", "24"), is one of the leads in the film, his character, Brij Nath, is more a Hollywood-imagined version of an Indian playboy, rather than the genuine article. Keeping production costs low may have meant that new hotel in Dubai is used as substitute for Mumbai, despite the many new luxurious hotels in that country which increasingly sophisticated audiences are aware of.
Cruise is fighting valiantly to retain the crown of being the King of Hollywood, and "Ghost Protocol" is a valiant effort. His scene conquering the Burj Khalifa scene in Dubai is part of cinematic history, with two global icons of architecture and cinema facing off against each other. Though he was never cast as Spider-man, Cruise's action work climbing, jumping and swinging may indeed prove to be an inspiration to Andrew Garfield, his co-actor on "Lions for Lambs" (2007) and coming soon, "The Amazing Spider-man" (2012).
Alpha1Media Internaional, a global diversified media agency, can be contacted on info@Alpha1Media.com, via Twitter @Alpha1Media or via website http://www.Alpha1Media.com.